December 2020 - January 2022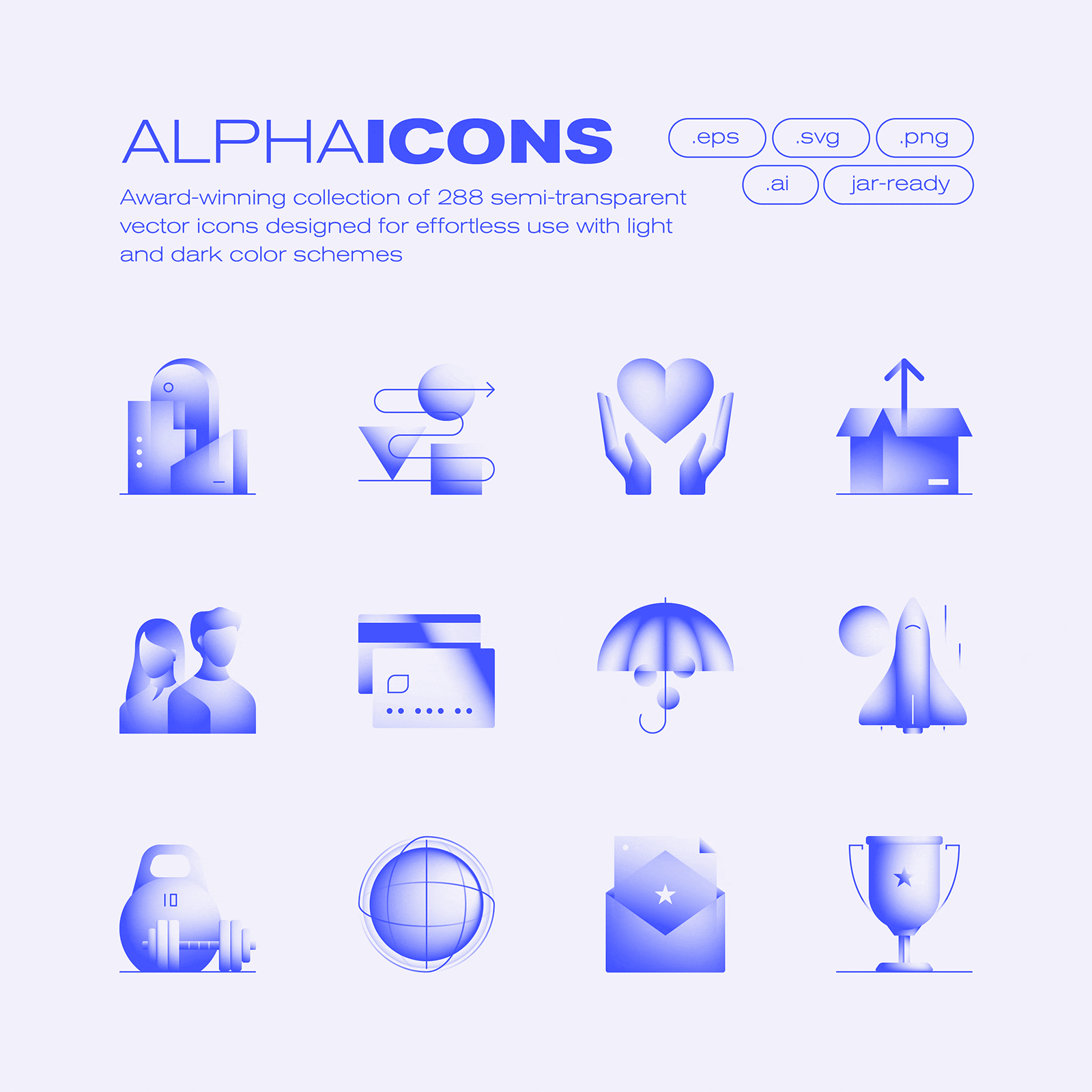 Type: Icons Collection
Medium: Vector / Raster Icons
Software: Illustrator
Outputs: Various Size
Alpha Icons is an
award-winning
collection contains two versions of 144 semi-transparent vector icons each, which have been specially designed for effortless use on any light or dark background.
The icons are convenient to use as they are, since they are semi-transparent, you don't need to apply blending modes to them when using them on backgrounds of different colors and saturation. At the same time, they are easy to recolor, as both light and dark versions of the icons use only one color in the palette.
To take a look at the full collection and purchase a license for your project, please, follow the link to Creative Market:
https://crmrkt.com/B2gEEq
December 2015 - April 2017
Type: Icons Collection
Medium: Vector / Raster Icons
Software: Illustrator
Outputs: Various Size
The Futuro Icon collection is one of my favorite and most challenging projects, which I have been working on for more than 2 years, gradually refining the style of the collection as my icon design skills evolved.
The collection consists of a versatile library of 1,200 icons with expressive and unique metaphorical symbols that provide extensive possibilities for creative use in many directions.
I've developed a modular grid to create symbols, with a basic dimension of 64x64 pixels and a line thickness of 2 pixels. Vector scalability and the ability to control the thickness of the stroke gives a flexible range of options for applying icons and surely eases the workflow of any designer.
The collection awarded numerous times by
Behance
, and it's also featured in a book by BNN Publications:
Infographical Ilustrations and Icons
.
To take a look at the full collection and purchase a license for your project, please, follow the link to Creative Market:
https://crmrkt.com/zRN5kq